Find here details of companies selling Tractor Water Tanker in Ahmedabad, Gujarat. Get latest info on Tractor Water Tanker, Water Tanker, suppliers, manufacturers, wholesalers, traders with Tractor Water Tanker prices for buying.
---
WATER TANKER
Solmec Earthmover is the manufacture, exporter and supplier of all types Tractor Water Tanker in Ahmedabad, Gujarat, India. Our Water Tanker is fabricated with the help of latest tools and equipments in order to give if your requirement quality and attractive look in our entire product range. We offer this product to our valuable clients at the affordable price.
A Water Tanker is a container for storing liquid. The need for a water tank is as old as civilization, providing storage of water for drinking water, irrigation agriculture, fire suppression, agricultural farming, both for plants and livestock, chemical manufacturing, food preparation as well as many other applications.
Water Tanker parameters include the general design of the tank, and choice of construction materials. Various materials are used for making a water tank: plastics (polyethylene, polypropylene), fiberglass, concrete, stone, steel (welded or bolted, carbon, or stainless), Earthen ponds function as water storage. Water tanks are an efficient way to help developing countries, LEDCs, to store clean water.
---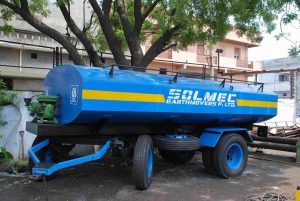 Features:
Sturdiness
High quality
Low maintenance
Robust construction
Longer operational life
Application specific design
Product details:
Capacity (liters)
All sizes are available as per buyer
Color
All colors are available as per Buyer
---
Our Tractor Water Tanker have been sold overseas with its high quality and effectiveness. You are welcomed to contact us via email or phone and we are waiting for your visit at any time.