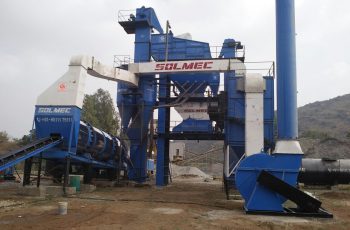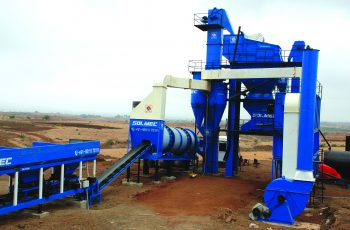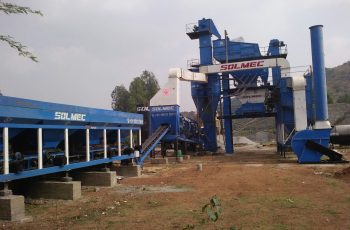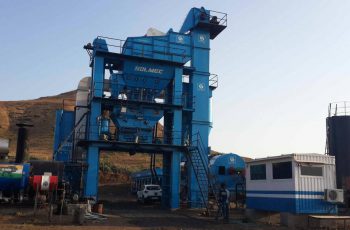 THE WORKING EFFICIENCY OF THIS PLANT CAN BE REALIZED THROUGH ITS VARIOUS FEATURES SUCH AS:
FOUR BEEN FEEDER
Cold aggregate supply system is the part of asphalt mixing plant, to store the difference size of the materials, according to the machine capacity to feeding material by the control system, usually have four bins.
Increased fuel efficiency
Vibrator system with high loading width
Gathering conveyor involved
Synchronized drive under one feeder
DRYING DRUM
This part works as the heart of the machinery and is fully equipped with features such as low maintenance, high heat transfer by radiation, counter flow design and specially designed drying flights.
Asphalt Plant are Designed for their efficiency and low maintenance.
Specially Designed of drying flight.
Highest heat transfer by radiation of flights.
COAL BURNER
It has high pressure atomized fully automatic burner unit is reputed for fuel efficiency,easy of operation and high up time.Completely automatic process control with system interlocks ensure high safety standards.
Filtration System.
Low maintenance.
Precise air control though hydraulic cylinder
Flame sensor.
DUAL CYCLONE TYPE PRIMARY DUST COLLECTOR
A dust collector is a system used to enhance the quality of air released from industrial and commercial processes by collecting dust and other impurities from air or gas. Designed to handle high-volume dust loads, a dust collector system consists of a blower, dust filter, a filter-cleaning system, and a dust receptacle or dust removal system.
Fully dust absorbed
smoke gas outlet
BAG HOUSE DUST COLLECTION SYSTEM
Fine dust absorbed by filter bag type air pollution control unit to meet the most stringent emission level specify inlet current worldwide environmental standards with pneumatic bag cleaning system,Dust re-feeding to filler pneumatically screw conveyor.It operates forward-reservedness as per the requirement of dust to the mix with cores dust or without cores dust.
Fine dust absorbed
Dust re feeding by bucket elevator
VIBRATING SCREEN
Fully enclosed inclined linear vibration screen with high quality vibrating screen cloth,contribute to top notch performance.The inclined linear vibrating screen is provided with duplex spring observers and is powered with two number of six-pole maintenance free vibrator motors.The free-floating design prevents any vibration from being transferred to weighing scale.a wider platform with easy access eases the maintenance of the screen.
High quality inclined screen
Duplex spring absorbs
Free Floating design
Wide Platform
HOT AGGREGATE ELEVATOR
Twin lane chain & toothed pocket at drive for bucket elevator ensure operation of entire elevator system.Eliminating unbalancing of bucket during heavy loads when plant operated at full capacity Double socket chain wiith four piece type fully covered box for easy installation on tower contains frame.The hot aggregate bucket elevator is a tottaly enclosed unit in chain driven system.
Twin-lane chain drive
Double durability of bucket tips
Specially designed bucket
Superior performance of bucket
FILLER SUPPLY SYSTEM
Filler, as the name implies, fills the voids between aggregate grains and improves the wearing capabilities of the overall mix. It is stored and fed dry into the mix, during or after addition of binder. A common source of filler is fines from the heating process recovered by bag filters or wet filtration ponds from the exhaust of the heating drum.
WEIGHING AND MIXING SYSTEM
Twin shaft compulsory asphalt concrete mixer (the mixing arm is cross arranged with changeable gridded mixing blade), high mixing efficiency and long life. motors with hard-teeth reduction gear, most stably and high performance.
Low maintenance of load cells
Easy Calibration System
Quick Discharge
BITUMEN SUPPLY
With Solmec, customers can opt for direct heating type bitumen storage tanks or hot oil heated bitumen storage tanks. Storage capacity ranges from 15 to 50 tons. The indirect heating tanks are supplied with a Japanese design thermic oil heater. The direct heating tanks are supplied with automatic imported pressure jet burner. As a standard all Solmec tanks are supplied with auto thermostatic controls and level indicators.
Bitumen pump with jacketed oil body, bitumen metering system.
Variable speed motor and hot oil circulation motor is provided with mobile bitumen storage
ASPHALT STORAGE
Finished road stone must be kept heated to avoid setting. It is commonly stored in large electrically heated insulated stainless steel silos, from which it is weighed into delivery vehicles. This may be achieved by intermediate weigh hoppers (which may shuttle between hoppers) or by mounting the hoppers directly on load cells. Control of load out by this method involves accurately predicting the material "in flight" between the discharge door and the vehicle.
Asphalt storage tanks are insulated with glass wool to avoid heat loss and to reduce fuel consumption
Storage tanks with capacity ranging from 15 to 50 tons are on offer
CONTROL SYSTEM
Automatic/manual control system, with fault self-diagnosis process, operate easily and safely. SIEMENS PLC electrical control system, reliability is high. Fully graphic Multilanguage control interface is easy and convenient for different operators. Fully computerized air-conditioned control cabin, with on-board electrical power control console, distribution switch board. User-friendly software on the computer with a parallel PLC man machine interface gives you total reliability and ensures top notch performance
Fully computerized on board electric power control
User friendly PLC/SCADA base control system
Printout of job mixing production
---
Description
Asphalt Batch Mix Plant is up to the user what is applicable to his situation depending upon the quality and quantity of consistent RAP material available and his own cost economics based on the initial capital cost, expected cost saving by use of RAP and cost of getting the RAP material which includes milling, transportation and fuel cost as per the moisture content in RAP. Good part about Asphalt Batch Mix Plant is that any of these options can be retrofitted with minimum changes at later date. So, the plant can grow with the needs and changing situations.
Being one of the main equipment that are used for road construction and other constructions, this plant is used to manufacture Asphalt Batch Mix Plant. The end product is moved on to the construction site later on. The Asphalt Batch Mix Plant prepares asphalt by combining sand and stone dust in proper proportions which are heated and later adding bitumen to it.
The quality asphalt batch mix plant is a good buy for those who are on a budget. You are going to be looking at your finances hoping it all works out and that will happen as long as you are choosing this option. It has been listed as one of the most affordable plants on the market, and you are the one who is going to find this out immediately. There aren't too many plants that are as good as this while still being affordable. For this reason alone, you want to give it a quick glance as soon as possible.
---
Our Batch Mix Plant is one of those plants that is going to continue to produce good results, and you are going to enjoy how well it works. It has been tested in all situations and can generate the level of quality you are after as the business owner. It is going to settle in and work like a charm as soon as you install it. This is what a good mix plant should bring to the table, and it does immediately.
The Asphalt Batch Mix Plant is mainly composed of cold aggregate supply system, drum dryer, coal burner, coal feeder, dust collector, hot aggregate elevator, vibrating screen, filler supply system, weighing and mixing system, asphalt storage, bitumen supply system.
With this cooperation starts another chapter in the diversification and growth path of Solmec Earthmovers. Our state-of-art Asphalt Batching Plants will exceed all customer expectations with their:
User friendly controls
Fast & easy installation and start-up
Low maintenance costs
Excellent fuel efficiency
Asphalt Plant is making with the best materials and is battle-hardened in situations that are going to ask a lot of it. You are not going to feel it is woefully inefficient and that is what matters when you are putting money into a powerful asset such as this one. It will add value.
We offer Premium quality Solmec Asphalt Batch Mixing Plants to our clients. Our equipments are Economical, Operator Friendly, Efficient, Technologically Updated, Ease to Install and Maintain.
---
SAND
One key ingredient of most road stones is sand. Sand generally has a high water content. Boiling off this water is a large part of the energy cost of heating the aggregate, in turn a significant part of the overall cost of operation. The water content of sand also varies considerably, especially when stored outdoors, being typically of the order of some tens of percent of the overall mass of wet sand. Since sand takes the form of small grains, with a high surface area per unit volume, and binder attaches to the surface of the aggregates, the amount of dry sand in the mix is particularly critical to the overall blend; the moisture content must be measured and the equivalent dry weight calculated.
BINDER
Binder comes in different grades known as "penetration" or "pen" grades, with values varying between around 30 and 300. The pen value is an expression of the depth to which a standard needle will penetrate the surface of the binder at a specified temperature (the higher the value, the softer the binder). This has an effect on the workability of hot asphalt and the stiffness of the asphalt when cooled. Lower pen values give harder wearing. Asphalt wearing courses are typically 35-50 pen, base courses will be higher, typically 200 or 300 pen. The coating plant may combine binder of different grades to achieve a grade between those held on site.
---
COMPONENTS OF STANDARD ASPHALT BATCH MIX PLANT
1. Cold aggregate four bin feeder
2. Oversize removal vibratory screen unit
3. Thermo drum or dryer drum
4. Batching tower which consists of hot elevator,vibrating
Screen,hot aggregates bin,weighing section for
Filler,aggregates and bitumen,pug mill and asphalt transfer
Pump
5. Bitumen heating and storage solutions
6. Control unit
---